Maharaj/Degavino Duo

(Flute & Piano)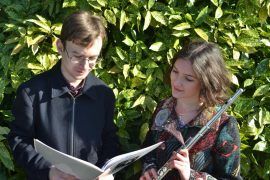 The Maharaj/Degavino Duo are Meera Maharaj (flute) and Dominic Degavino (piano).
Here is a PDF of the Poster for this Concert. (click to VIEW or right click to SAVE). Please feel free to print and display the brochure to help publicise this concert.
Programme (announced 22nd October, amended 12th November)
J S Bach: Flute Sonata in E Major BWV1035
(4 movements)
Tchaikovsky (arr. Braunstein): Lenski's Aria
(from "Eugene Onegin")
Mel Bonis: Sonata for flute and piano Op 64
(4 movements)
Andy Scott: Sonata for flute and piano
(3 movements)
Prokofiev: Sonata for flute and piano Op 94
(4 movements)
Brief Report "on the night"
A concert of two very different halves. The Bach was very smooth and beautiful, the Tchaikovsky particularly lyrical, and the Bonis more up-tempo and exciting.
After the interval there was a distinct change. The Scott was much more modern with a jazz feel and was well liked with lots of applause (including an extra round for the composer who was present). Finally the Prokofiev felt edgy and exciting, with yet more enthusiastic applause.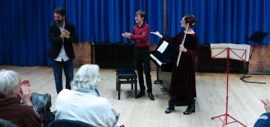 with composer Andy Scott
(All pictures taken by Roger Evans)
Press Report
Sometimes you look at a concert programme with a mixture of excitement, interest and trepidation because most of it is unfamiliar. However, Meera Maharaj (flute) and Dominic Degavino (piano) soon captivated the audience with a combination of splendid playing, a superb balance between the instruments, and uncomplicated insights into each piece.
They started with JS Bach's Flute Sonata in E major, which had a dance-like feel and structures typical of that composer. In a change from the advertised programme they played Braunstein's arrangement of Lenski's Aria from Eugene Onegin (Tchaikovsky). This captured the angst of the original. Apparently Meera had been a singing pupil of Joy Naylor, the concert manager, before deciding to become a flautist. The last piece in the first half was the sonata by Mélanie Bonis, an unexpected pleasure, with long, flowing lines, belying her rather complicated life.
The second half began with Andy Scott's Sonata for flute and piano. The outer movements had a distinctly jazzy feel, with lots of syncopated rhythms. The middle movement was quite calm and spacious. With the composer in the audience there was added pressure! The concert ended with Prokofiev's Sonata for flute and piano, perhaps the best known work in the concert and providing a suitably flamboyant finale.
– – – – –
For more information about Meera Maharaj visit her own web-site (in a new window), by clicking HERE
For more information about Dominic Degavino visit his own web-site (in a new window), by clicking HERE