Polaris Duo

(Saxophone & Harp)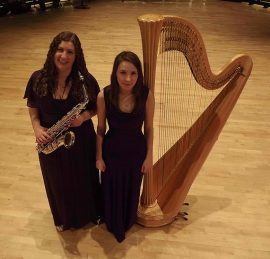 Gillian Blair (saxophone) and Elinor Nicholson (harp) formed the Polaris Duo in 2011 whilst studying at the RNCM and have since been exploring an eclectic range of repertoire and possibilities for this unusual instrumentation.
Here is a PDF of the Poster for this Concert. (click to VIEW or right click to SAVE). Please feel free to print and display the brochure to help publicise this concert.
Please feel free to print and display the Poster if you would like to help publicise this concert.
Programme (announced 18th December)
Barbara Thompson: Green
Saint-Saëns: Fantaisie op.124 –
Esther Swift: What Is Joy To You?
Gustav Bumcke: Notturno op.45
INTERVAL
C.P.E Bach: Sonata in G Minor (3 movements)
Tchaikovsky: Lenski's Aria from Eugene Onegin
Andy Scott: Sonata for Saxophone and Harp (3 movements)
Brief Report "on the night"
An unusual combination of instruments, but a lovely sound. The first half started with a gentle piece by Barbara Thompson, then an evocative Fantasie by Saint-Saens, and the world-premier of a piece by Esther Swift. However the highlight was definitely a really beautiful Notturno by Bumcke, which saw Gillian playing mainly low notes on her Baritone Saxophone (see bottom middle photo) being contrasted with Elinor playing a string of high notes on her Harp).
After the interval a beautiful Bach Sonata was followed by the enchanting Lenski's Aria (Tchaikovsky), and they finished with a very lively (dare I say Jazzy) Sonata from Andy Scott which finished the evening on another high.
All in all a thoroughly enjoyable evening, made more so by Elinor's quick tour of how her harp worked.
(All pictures taken by Roger Evans)
Press Report
Straying from the more established combinations of musical instrument can seem risky. However, on this occasion, The Polaris Duo (with Gillian Blair playing a variety of saxophones and Elinor Nicholson on harp) maintained an excellent balance between the instruments and captivated the audience with splendid playing and fascinating insights into each piece. Elinor also described the workings of the harp.
They started with "Green" by Barbara Thompson, with a haunting tune on the soprano saxophone and hypnotic rhythms on the harp. Saint-Saens' Fantaisie was an expansive piece, given a heart-felt rendition. "What is Joy to You?" by Ester Swift, was given its World Premier at this concert. It had quite a mixture of styles – folk, jazz, rock. The first half finished with the Nottorno by Gustav Bumcke. Here the harp had most of the tunes and the baritone saxophone the bass line, making the floor vibrate!
The second half began with a Sonata now attributed to CPE Bach, with typical lines and invention. Then came an arrangement of Lenski's Aria from Eugene Onegin (Tchaikovsky), which worked well. The concert finished with Andy Scott's Sonata for saxophone and harp (with the composer in the audience). The first movement had a distinctly jazzy feel, the middle movement was quite calm and spacious, with a Latin feel to the finale.
– – – – –
For more information about the Polaris Duo visit their own web-site (in a new window), by clicking HERE