Dolby & Hughes

(4 Hands 1 Piano)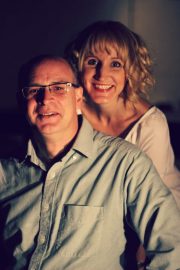 Wendy Nugent (then Wendy Dolby) and Tony Hughes met and started playing together over a decade ago. In that time they have been entertaining audiences all over the North West with their varied and exciting repertoire, which consists of a mix of original piano duets and arrangements of orchestral work. More recently they have recorded their first CD "Crossing Hands", packed full of their favourite music. They are delighted to return to Middlewich once again.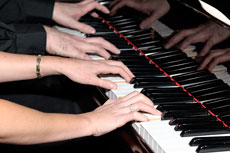 Here is a PDF of the Poster for this Concert. (click to VIEW or right click to SAVE). Please feel free to print and display the brochure to help publicise this concert.
Programme (announced 17th September)
Bernstein: Candide Overture
Mozart: Piano Sonata in C, K 521
(Allegro / Andante / Allegretto)
Rachmaninoff: Prelude in D Major Op 23 No 4 [Tony]
Bizet: Carmen Fantasy
Ligeti: Sonatina
Khatchaturian: Ballet "Suite"
(Waltz from Masquerade / Adagio from Spartacus / Sabre Dance from Gayane)
Pierne: Etude de Concert in C Major, Op 13 [Wendy]
Bizet: selection from L'Arlesienne Suites
(Prelude / Menuet / Adagietto / Carillon / Farandole)

Brief Report "on the night"
A really good concert, enjoyed by around 55 people. The highlight of the first half for me was Mozart's Sonata in C which was absolutely enchanting. A close second was Tony's rendition of a Rachmaninoff Prelude played from memory.
The second half had two big highlights for me. First there was the Khachaturian "suite" with all 3 pieces really well played and enjoyed by everybody present. Tony apologised before-hand if the middle piece (Adagio from Spartacus) made anybody sea-sick, but added that those under 50 might not understand the joke. Being over 50 I remember it well as the theme from BBC's Onedin Line (which had lots of scenes of sailing ships). My second highlight was Wendy's fantastic playing of a Pierne Etude which just got faster and faster.
Finally they added Mussorgsky's Gopak as a thoroughly good encore. I think that we might be inviting them back again …
Press Report
What a splendid way to open our 30th season. The Dolby and Hughes Piano Duo were in fine form and kept the audience enthralled throughout.
They started with Leonard Bernstein's boisterous overture to his operetta "Candide". Next was Mozart's Sonata in C, K521, which he described as 'rather difficult'. It provided a pleasing contrast in form and pace. Tony then gave a dazzling performance of the Rachmaninoff Prelude Opus 23, No. 4, from memory. The first half concluded with a Fantasy on tunes from Bizet's opera "Carmen", many of them being well-known.
The second half began with Ligeti's Sonatina. This was quite modern and unexpectedly accessible, the slow movement being mesmerising. The Waltz from Masquerade, the Adagio from Spartacus and the Sabre Dance from Gayane, all by Khatchaturian, were played as a set with gusto or delicacy, as required. Wendy's solo was an "Etude de concert" by Pierne and demonstrated complete mastery of the piece. Tony thought she should do the whole concert by herself! They finished with a selection from the "L'Arlesienne" suites by Bizet.
Apart, of course, from an encore: Mussorgsky's "Gopak", a Russian dance, demonstrated by a member of the audience, much to everyone's surprise!
– – – – –
For more information about Dolby & Hughes visit their own web-site (in a new window), by clicking HERE