Junior RNCM
"Before They Become Famous XII"
Another visit by students from the Junior Royal Northern College of Music
This year's concert features 4 students :-
Nathanael Horton (Cello)
Adam Scaife (Trumpet)
Rachel Burnett (Saxophone)
Kizzy Lumley-Edwards (Voice)
Here is a PDF of the Poster for this Concert. (click to VIEW or right click to SAVE). Please feel free to print and display the brochure to help publicise this concert.
Programme
Adam Scaife (Trumpet)
Oscar Bohme: Concerto in F minor for Trumpet
i Allegro moderato
Kizzy Lumley-Edwards (Voice)
George Frideric Handel: Bel Piacere
Franz Schubert: Standchen
Elizabeth Maconchy: Ophelia's Song
Wolfgang Amadeus Mozart: Un Moto Di Gioia
Nathanael Horton (Cello)
Edward Elgar: Cello Concerto
i Adagio
Rachel Burnett (Saxophone)
Andy Scott: And Everything Is Still
Darius Milhaud: Braziliera
INTERVAL
Nathanael Horton (Cello)
Sergei Prokofiev: Cello Sonata in C Major
i Andante grave
Adam Scaife (Trumpet)
Johann Nepomuk Hummel: Trumpet Concerto in E Major
i Allegro con spirito
arr. John Jveson: Tico-Tico
Rachel Burnett (Saxophone)
Ronald Binge: Concerto
ii Romance
iii Rondo
Kizzy Lumley-Edwards (Voice)
George Frideric Handel: How Beautiful Are The Feet
Henry Purcell: I Attempt From Love's Sickness To Fly
Arthur Sullivan: Poor Wandering One
(Piano accompaniment by David Jones throughout)
| | | | |
| --- | --- | --- | --- |
| | | | |
| Rachel Burnett | Nathanael Horton | Kizzy Lumley-Edwards | Adam Scaife |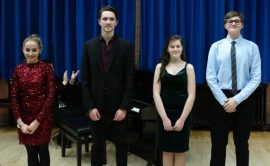 Bows at the end
(All pictures taken by Roger Evans)
Press Report
This year's group of students from the Junior Royal Northern College of Music captivated the audience at the Middlewich and District Concerts Society concert in the manner to which we have become accustomed. David Jones provided piano accompaniment throughout.
Adam Scaife (15) coped well with the intricacies of movements from trumpet concertoes by Bohme and Hummel, but was clearly more at home in an exuberant performance of "Tico-tico" by Abreu.
The singer this year was Kizzy Lumley-Edwards (15). What a voice! She sang with commendable clarity in Italian, German and English, beginning with "Bel Piacere" by Handel and "Standchen" by Schubert. She also sang pieces by Maconchy, Mozart, Handel (again) and Purcell, finishing with a delicately phrased "Poor Wandering One" from the "Pirates of Penzance" by Gilbert and Sullivan.
Nathanael Horton (17) gave an intense, achingly beautiful performance of the slow movement from Elgar's cello concerto, followed by an equally evocative rendering of the first movement of Prokofiev's cello sonata.
The fourth student was Rachel Burnett (16). She played "And Everything is Still" by Andy Scott, "Braziliera" (Milhaud) and two movements from Ronald Binge's saxophone concerto. She demonstrated great technique with the saxophone and a remarkable stage presence, keeping the audience totally engaged throughout the music.
For more information about the Junior RNCM visit their own web-site (in a new window), by clicking HERE