Sophie Rosa

(Violin) accompanied by

Duncan Glenday

(Piano)
Sophie is a local girl from Cuddington. She plays a 1790 "Joseph Gagliano" violin. Her earlier concerts for us in 2014 and 2015 were so enthusiastically received that we are delighted to have finally managed to book her again. This visit she will be accompanied by a pianist new to us, Duncan Glenday (who is also relatively local, coming from Oldham).
Here is a PDF of the Poster for this Concert. (click to VIEW or right click to SAVE). Please feel free to print and display the brochure to help publicise this concert.
Programme
Bach: Sonata in E major for Violin and Continuo BWV 1016
(Adagio / Allegro / Adagio ma non tanto / Allegro)
Schumann: Abendlied Op.85 no.12
Schumann: Gartenmelodie Op.55
Beethoven: Sonata in G major no.8, Op 30 no. 3
(Allegro assai / Tempo di minuetto, ma molto moderato e grazioso – in E-flat major / Allegro vivace)
Interval
Korngold: Much Ado About Nothing,
suite from the incidental music for violin and piano, op. 11
(Maiden in the Bridal Chamber / March of the Watch (Dogberry and Verges) / Garden Scene / Hornpipe)
Kreisler: Selection of works
Brahms: Hungarian Dances no.1 and no.5
Brief Report "on the night"
Another exciting concert from Sophie Rosa, this time with Duncan Glenday. The first half contained 2 glorious full-length Sonatas by Bach and Beethoven. The second half was principally shorter pieces including 5 by Kreisler [Gluck: Melodie ; Liebeslied ; Liebesfreud ; Dvorak: Songs My Mother Taught Me + (as an encore) Midnight Bells]. We really enjoyed the concert and hope to hear them again.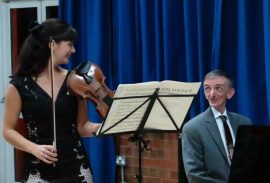 Ready to begin
(All pictures taken by Roger Evans)
Press Report
Sophie Rosa (violin) has always been a favourite of audiences at the Middlewich and District Concerts Society's concerts and she confirmed that she was glad to back in Middlewich. On this occasion she played with Duncan Glenday (piano). Not only had they a great rapport, but they were clearly enjoying themselves, feelings which instantly allowed them to communicate with the audience.
The programme began with a JS Bach Sonata (BWV 1016), with two heart-felt slow movements and two typically spritely fast movements. There followed two pieces by Schumann: Abendlied, slow and reflective; and Gartenmelodie, which owed much to Bach. The climax of the first half was a rousing performance of Beethoven's sonata Opus 30/3.
Eric Korngold is best known for his film scores, but he started in the theatre. The suite from the incidental music for "Much Ado About Nothing", written at the age of 20, was imaginative and lush in tone. The violinist Fritz Kreisler both wrote and arranged music. The pairing of Liebeslied and Liebesfreud was exquisite, sandwiched between Gluck's "Melodie" and "Songs My Mother Taught Me" by Dvorak. The concert concluded with stunning performances of Brahms Hungarian Dances 1 and 5. Apart, that is, from an encore: more Kreisler in the form of "Midnight Bells" by Heuberger. Magic!
– – – – –
For more information about Sophie Rosa visit her own web-site (in a new window), by clicking HERE
For more information about Duncan Glenday visit his own web-site (in a new window), by clicking HERE