The Sterling Trio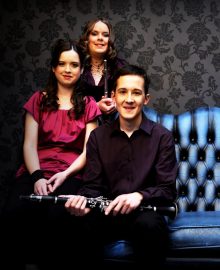 The Sterling Trio are Sarah Atter (Flute), Thomas Verity (Clarinet) and Lauren Hibberd (Piano). They pride themselves on exciting, innovative and communicative performances. Performing with "adventurous spirit and fearless technique" [British Music Society] the Trio are passionate about engaging with audiences and sharing their enjoyment! As ambassadors for their unique combination of instruments – complemented by bass clarinet, piccolo, alto and bass flutes – the Trio have performed extensively, notably at St. Martin-in-the-Fields, Queen Elizabeth Hall, St. James's Piccadilly and Bridgewater Hall, and have had competition success with UK Young Artists, Tunnell Trust and Park Lane Group Young Artists Scheme.
We thoroughly enjoyed their 2016 concert for us, and are delighted to welcome them back.
Here is a PDF of the Poster for this Concert. (click to VIEW or right click to SAVE). Please feel free to print and display the brochure to help publicise this concert.
Programme (announced 3rd September)
Paul Agricole Génin (1832-1904) : Grand Duo Concertant, Opus 51
Johann Joachim Quantz (1697-1773) : Trio Sonata in G minor
(3 movements)
Béla Bartók (1881-1945) : Romanian Folk Dances
(7 dances)
Johann Nepomuk Hummel (1778-1837) : Adagio, Variations and Rondo on a Russian Theme in A major, Op. 78
(9 movements)
INTERVAL
Sir Henry Bishop (1786-1855) : Lo! Here the Gentle Lark
Madeleine Dring (1923-1977) :Trio
(3 movements)
Howard Blake (1938-) : Up-and-Down Man (Burlesque Suite), Opus 635 (2012)
(9 movements)
Sir Malcolm Arnold (1921-2006) : Suite Bourgeoise
(5 movements)
Brief Report "on the night"
An enchanting concert. Two of the pieces (Bartok and Blake) called for the use of the Bass Clarinet, which as always fascinated the audience. A very enjoyable concert to start our season.
| | | |
| --- | --- | --- |
| | | |
| Sarah, Lauren and Thomas start the Concert | Bass Clarinet in Action | Back to usual Clarinet |
(All pictures taken by Roger Evans)
Press Report
What a brilliant start to the Middlewich and District Concerts Society's 29th season! The Sterling Trio, comprising Sarah Atter (flute), Thomas Verity (clarinet) and Lauren Hibberd (piano), captivated an appreciative audience with a fascinating selection of music. Introductions to the pieces were delivered with clarity, a great help when venturing into the unknown.
The programme began with the "Grand Duo Concertant" by Génin, which had a Rossini-like lightness. Quantz' "Trio Sonata" had a typical 18th century feel. The "Romanian Folk Dances" by Bartok are well known and usually heard in orchestral form. However, the Trio were able to bring out more of the subtleties of the music. Hummel 's "Variations on a Russian Theme" made use of the bass clarinet, which made the floor vibrate!
In the second half we heard "Lo! Here the Gentle Lark" by Sir Henry Bishop. He wrote a lot of music for Shakespeare plays, this one coming from "A Comedy of Errors". Madeleine Dring's Trio had a distinctly 20th century sound. Howard Blake wrote music for the television series "Up-and-down man" in the 1970s, subsequently making arrangements for combinations of instruments. The concert ended with Sir Malcolm Arnold's "Suite Bourgeoise", a set of dances. Altogether it was a splendid evening of music making!
– – – – –
For more information about the Sterling Trio visit their own web-site (in a new window), by clicking HERE