Junior RNCM
"Before They Become Famous XI"
Another visit by students from the Junior Royal Northern College of Music
This year's concert features 4 students :-
Ruby Howells (flute)
Glyn Webster (voice)
Amelia Stuart (flugelhorn / trumpet)
Nick Broughton (double bass)
Here is a PDF of the Poster for this Concert. (click to VIEW or right click to SAVE). Please feel free to print and display the brochure to help publicise this concert.
Programme
Ruby Howells (Flute)
Carl Stamitz: Concerto in D – (1) Allegro
Amelia Stuart (Flugelhorn)
Joaquin Rodrigo: Concierto de Aranjuez – 2nd movement
Nick Broughton (Double Bass)
Giambattista Cimador: Double Bass Concerto – (1) Allegro
Gabriel Faure: Apres un Reve
Glyn Webster (Voice)
George Butterworth: Is My Team Ploughing?
Heinrich Herzogenberg: Stimme der Nacht
Gioachino Rossini: La Danza
INTERVAL
Amelia Stuart (Trumpet)
Traditional (Welsh arranged Round): The Ash Grove
Glyn Webster (Voice)
Benjamin Britten: The Choirmaster's Burial
Ralph Vaughan-Williams: Silent Noon
Hoagy Carmichael: Memphis in June
Nick Broughton (Double Bass)
Astor Piazzolla: Kicho
Camille Saint-Saens: Carnival of the Animals – The Elephant
Ruby Howells (Flute)
Cecile Chaminade: Flute Concertino in D Major, Op 107
Press Report
This year's group of students from the Junior Royal Northern College of Music captivated the audience at the Middlewich and District Concerts Society concert in the manner to which we have become accustomed. David Jones provided piano accompaniment throughout.
Ruby Howells (16) is the British Flute Society's Young Performer 2018 and she amply justified this accolade with brilliant performances of the Concerto in D by Stamitz, and the Flute Concertino by Cécile Chaminade.
Amelia Stuart (12) showed great technique and commitment on the flugelhorn in Concierto de Aranjuez (Rodrigo), and on the trumpet in variations on The Ash Grove. For one so young the potential was clear for all to see.
Nick Broughton (17) demonstrated what could be achieved with the double bass with compelling performances of the Cimador Double Bass Concerto, and "Après un Rêve" by Fauré in the first half; followed after the interval by Kicho (Piazzolla), and "The Elephant" from "Carnival of the Animals" (Saint-Saëns).
The singer this year was Glyn Webster. He sang with commendable clarity, beginning with an emotional performance of "Is My Team Ploughing?" by Butterworth. He continued with "Stimme Der Nacht" (Herzogenberg) and "La Danza" by Rossini. After the interval he gave us "The Choirmaster's Burial" (Britten), "Silent Noon" (Vaughn Williams) and "Memphis in June" (Hoagy Carmichael) .
| | | | |
| --- | --- | --- | --- |
| | | | |
| Ruby Howells (flute) | Amelia Stuart (flugelhorn) | Nick Broughton (double bass) | Glyn Webster (voice) |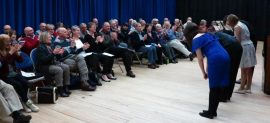 Bows and Applause
(All pictures taken by Roger Evans)
For more information about the Junior RNCM visit their own web-site (in a new window), by clicking HERE