Roth Guitar Duo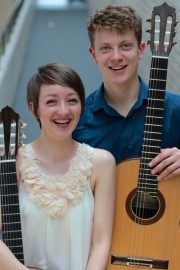 The Roth Guitar Duo are Emma Smith and Sam Rodwell
Here is a PDF of the Poster for this Concert. (click to VIEW or right click to SAVE). Please feel free to print and display the brochure to help publicise this concert.
Programme (announced 15th March)
Mario Castelnuovo-Tedesco (1895-1968): Prelude and Fugue No. 2
from Les Guitares Bien Temperees [Well-Tempered Guitars]
Sergio Assad (1952-): Jobiniana No.1
Paul Hindemith (1895-1963): Rondo
Radames Gnattali (1906-88): Suite Retratos [Portraits]
II:Ernesto Nazareth (valsa)[waltz]
IV: Chiquinha Gonzaga (corta-jaca) [a Brazilian dance]
Mario Castelnuovo-Tedesco (1895-1968): Variations a traverse les siecles, Op.71 [Variations through the centuries]
Chaconne + 5 Variations: Preludio, Walzer I, Walzer II, Walzer III, Fox-Trot
Roland Dyens (1955-2016): Songe Capricorne [Capricorn Dream]
INTERVAL
Joaquin Rodrigo (1901-99): Toccata
Stephen Goss (1964-): Labyrinth
Toru Takemitsu (1930-96): Bad Boy
Nigel Westlake (1958-): Songs from the Forest
Astor Piazzolla (1921-92): Lo Que Vendra [What will Come]
Steve Reich (1936-): Nagoya Guitars
Manuel de Falla (1876-1946): La Vida Breve [Brief Life]
Brief Report "on the night"
There were a few small changes made to the programme "on the night". In the first half, the second piece played was actually "Peter Maxwell Davies : Farewell to Stromness" which replaced the advertised "Jobiana No 1". In the second half "Labyrinth" was played before "Toccata", and "Yvonne Bloor: Homecoming" was played as an encore.
A very enjoyable concert to end our season.
(All pictures taken by Roger Evans)
Press Report
The last concert of the Middlewich and District Concerts Society's season featured the Roth Guitar Duo, Sam Rodwell and Emma Smith. They produced a fascinating evening of music making. Even though many of the pieces they played were unfamiliar the empathy between the musicians and their sheer artistry, coupled with a view of the complex technicalities of actually playing the classical guitar, held sway throughout. They both played two solo pieces, Emma at the end of the first half and Sam to begin the second half. This provided a stern examination of technique and musicality, passed with flying colours.
Since most of the pieces were relatively short we were treated to music from a wide range of composers: Mario Castelnuovo-Tedesco, Peter Maxwell Davies, Paul Hindemith, Radames Gnattali, Roland Dyens, Stephen Goss, Joaquin Rodrigo, Toru Takemitsu, Nigel Westlake, Astor Piazzolla, Steve Reich and Manuel de Falla. The best-known pieces were, perhaps, "Farewell to Stromness" (Maxwell Davies) and "La Vida Breve" (de Falla). "Labyrinth" (Goss) was interesting because, apart from the first and last sections, all the other parts could be played in any order. Each piece was introduced in a relaxed, but concise and informative manner.
As an encore they played "Homecoming", written for them by Yvonne Bloor. It was serene and charming and provided an apt finale to an excellent concert and season.
For more information about the Roth Guitar Duo visit their own web-site (in a new window), by clicking HERE