David Cowdy

(Oboe) and


David Jones

(Piano)
Here is a PDF of the Poster for this Concert. (click to VIEW or right click to SAVE). Please feel free to print and display the brochure to help publicise this concert.
Programme (announced 12th December)
Walmisley: Sonatina No.1 for Oboe and Piano
Head: Siciliana for Oboe and Piano
Barber: Canzonetta
Grabert: Sonata in G Minor for Oboe and Piano, Op.52
Interval
Sinigaglia: 12 Variations on a theme by Franz Schubert, Op.19
Dubery: Threesome for 2 Players (Sonatina for Oboe and Piano)
Elgar: Soliloquy
Saint-Saëns: Oboe Sonata, Op.166
Brief Report "on the night"
Another enjoyable concert, attended by around 50 people. Unusually we actually had the composer of one of the pieces (Mr Dubery) present at the concert. As a bonus we were treated to an encore of Gershwin's promenade.
All pictures taken by Roger Evans
Press Report
Four years ago David Cowdy (oboe) and David Jones (piano) played at a Middlewich and District Concerts Society's concert and enthralled the audience. This time they introduced us to even more obscure parts of the oboe repertoire, engaging performances, interspersed with informative commentaries producing the same result.
They began with a Sonatina by Thomas Walmisley, typical of its time (1847), with flowing lines. Michael Head's Siciliana (1972) followed, putting us into the 20th century. Samuel Barber's Canzonetta was quite eloquent, but also somnolent. They concluded the first half with a sonata by Martin Grabert, written in 1921 but firmly Romantic in style.
Leone Sinigaglia's set of twelve variations on "Heidenröslein" by Schubert were fascinating. Then came the surprise of the evening. David Dubery wrote a "Threesome for Two Players" in 1994 and was in the audience to listen to this performance: well played and well received! Elgar's "Soliloquy" was quite moving. The oboe sonata by Saint-Saëns, also from 1921, but completely different from the Grabert, completed the programme. As an encore they played Gershwin's "Promenade". A magical conclusion to an absorbing concert!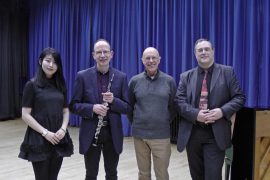 Tessy Yu (page turner), David Cowdy, David Dubery (composer) and David Jones
Photo by audience member Billy Fergusson