Lauren Scott

(Harp)
"In a Landscape"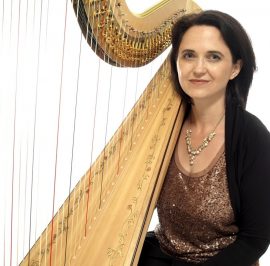 An enchanting programme of harp music; from intricate baroque delicacies, to dreamy impressionistic pieces, to modern day tangos and mambos. Introduced and performed by Lauren Scott, it includes works by Telemann & Debussy as well as pieces by living composers from France, Austria & America.
Update (8th September): Lauren's new Celtic lever harp is finally arriving soon, so she wants to bring that along and do a couple of pieces on this new harp in Middlewich, as well as on her concert harp. Hence the amended programme.
Further update (2nd November): Lauren has changed a couple of pieces after the interval, so that she can play her new harp in the second half too. NOTE: The poster (link below) was produced BEFORE these changes.
Here is a PDF of the Poster for this Concert. (click to VIEW or right click to SAVE). Please feel free to print and display the brochure to help publicise this concert.
Programme (amended 8th September and 2nd November)
Telemann: Fantasia
Francisque: Pavane et Bransles
Debussy: First Arabesque
Cage: In a Landscape
Stadler: Scandinavia
Pierne: Impromptu Caprice
INTERVAL
traditional: Merrily Kiss the Quaker
Tierson (arr. Turner): Suite from Amelie
Kurek: Moon Canticle
Stadler: Tango
Ortiz: The Butterfly Trees
Henson-Conant: Baroque Flamenco
Brief Report "on the night"
A great evening enjoyed by around 50 people. The sound of her new lever Celtic harp was magical. It was also very different to the sound of her pedal concert harp.
All pictures taken by Roger Evans
Press Report
The unique sound of the harp was used to good effect in the expert hands of Lauren Scott, keeping the audience spell-bound at the recent Middlewich and District Concerts Society concert. Lauren brought two harps, her big concert harp with a pedal action and a lush sound, plus a smaller newly acquired Celtic lever harp with a brighter sound. In fact this was the first outing for the lever harp.
The programme was wide-ranging, beginning with a Fantasia by Telemann, a piece she had long admired and has now added to her repertoire. The first piece she learnt was Debussy's "First Arabesque", which sounded quite ethereal. "In a Landscape" by John Cage was written for piano or harp. Lauren decided that it really suited the lever harp and that is what she used to evoke a dreamy atmosphere.
Monica Stadler is an Austrian composer living in Britain. Lauren played two of her compositions, "Scandinavia" on the lever harp and "Tango" on the pedal harp. There were lots of other pieces in the programme. Kurek's "Moon Canticle" required the use of chimes and the Baroque Flamenco (Henson-Cronant) included some audience participation. Altogether it was a splendid evening of music making!
For more information about Lauren Scott visit her own web-site (in a new window), by clicking HERE