Dolby & Hughes

(4 Hands, 1 Piano)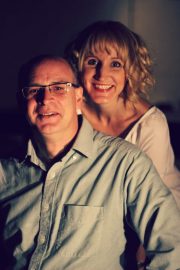 Wendy Dolby and Tony Hughes met and started playing together nearly a decade ago. In that time they have been entertaining audiences all over the North West with their varied and exciting repertoire, which consists of a mix of original piano duets and arrangements of orchestral work. More recently they have recorded their first CD, packed full of their favourite music. They are delighted to return to Middlewich once again.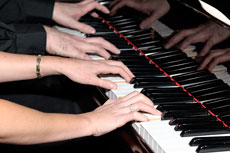 Here is a PDF of the Poster for this Concert. (click to VIEW or right click to SAVE). Please feel free to print and display the brochure to help publicise this concert.
Programme (announced 30th October)
Rossini: La Gazza Ladra (The Thieving Magpie)
Bizet: Symphony in C Major (4 movements)
INTERVAL
Gershwin: Cuban Overture
Hough: Mathilda's Waltz
Mozart: 5 Variations in G Major, K501
Busoni: Sonatina No.6 BV284, "Chamber-Fantasy on Bizet's Carmen"
Rimsky-Korsakov: Capriccio Espagnol
Brief Report "on the night"
A lovely evening which kept us all entertained. In the Bizet Symphony, the second movement was beautiful and the finale exciting. Their solos (Tony's Hough and Wendy's Busoni) showed another side to their piano playing with lyrical playing. The final Rimsky-Korsakov brought the evening to a rousing conclusion. After much applause they returned to give us an enchanting Gershwin Summertime as an encore.
All pictures taken by Roger Evans
Press Report
The Dolby and Hughes piano duo concerts seem to have become a regular fixture and it is easy to hear why.
The concert began with Rossini's Overture to The Thieving Magpie – lots of good tunes, played with gusto. Tony Hughes then revealed that he had spent five years arranging the Symphony in C by Bizet, the latter having written it in a month! This performance was a world premier and it was well worth the wait.
After the interval we heard Gershwin's Cuban Overture, full of Caribbean rhythms and typical Gershwin sounds. Matilda's Waltz was an interesting arrangement by Stephen Hough of Waltzing Matilda. Mozart's Theme with Variations in G continued the lighter feel. Everyone knows tunes from Carmen, but Busoni's Fantasia also contained some less familiar ones. For the final piece they gave a boisterous performance of Rimsky-Korsakov's Capriccio Espagnole. As Wendy Dolby explained afterwards, practising at home is straightforward, but putting the pieces together with four hands at one piano is a real challenge. There was, of course, an encore, a delightful rendering of Summertime, from Porgy and Bess (Gershwin), bringing to a close a fascinating and entertaining evening of music making.
– – – – –
For more information about Dolby & Hughes visit their own web-site (in a new window), by clicking HERE