James Willshire

(Piano)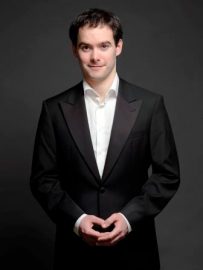 Pianist James Willshire has been heralded as a "fabulous technician" who has "torrential virtuosity". Audiences across five continents have been enthralled by his "freshness and lucidity", "clarity and sensitivity of touch" & his "bravura technique".
Recent recordings of contemporary British piano music have received universal acclaim. His 2013 David Jennings CD was chosen as one of Music-Web International's Recordings of the Year
Here is a PDF of the Poster for this Concert. (click to VIEW or right click to SAVE). Please feel free to print and display the brochure to help publicise this concert.
Programme (announced 14th February)
Bach: Prelude and Fugue in F sharp. (Book 1)
Beethoven: Sonata in A flat op.110 (4 movements)
Debussy: Estampes (3 movements)
Interval
Chopin: Polonaise-Fantaisie op.61
Chopin: Mazurka in C Sharp Minor op. 30 no. 4
Chopin: Waltz in A Flat op. 34 no. 1
Bach-Busoni: Chaconne
Press Report
James Willshire has become a fixture at the Middlewich and District Concerts Society concerts and it is easy to see (and hear) why. This time he came sporting a majestic beard. That adjective summed up the piano recital.
He started with a Prelude and Fugue by Bach, which he played with admirable precision. Then followed Beethoven's piano sonata, Opus 110, perhaps introspective, but triumphant in the end. The first half ended with Debussy's "Estampes", impressionistic pieces, depicting Pagodas, an evening in Grenada and gardens in the rain: effective portraits, and the rain was torrential!
After the interval we were treated to three dances by Chopin, a polonaise, a mazurka and a waltz, although it is doubtful whether anyone could actually dance to them! The polonaise in particular was a Fantaisie (Opus 61), lengthy and complex. Perhaps the surprise of the recital was Busoni's reworking of the Chaconne from one of Bach's violin partitas. This was absolutely stunning. For an encore James turned to one of his favourite composers, Rory Boyle, and played "Berceuse for Bertie" from "Comings and Goings". Another fantastic evening of music making!
All pictures taken by Roger Evans
For more information about James Willshire visit his own web-site (in a new window), by clicking HERE