Ludford Duo

(Two Cellos)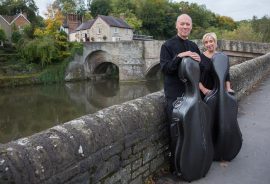 Cellists Ian and Janet Ludford met whilst working in the Academy of the BBC orchestra in Bristol. They moved to Cleobury Mortimer in Shropshire in 2015 after many years in Birmingham playing with the CBSO and Birmingham Royal Ballet Sinfonia and decided to combine their skills to form the Ludford Duo.
They play a wide variety of music from Baroque, classical and romantic to contemporary and popular. For part of their programme, they will be accompanied on a digital piano by Wendy Nugent, who you may remember from our very popular December Christmas is coming …….! concert.
Here is a PDF of the Poster for this Concert (click to VIEW or right click to SAVE). Please feel free to print and display the poster to help publicise this concert.
Programme (announced 3rd April)
Handel: Sonata in G Minor
Andante / Allegro / Largo / Allegro
Saint-Saëns: Ave Maria in A Op. 145
Pergolesi: Dolorosa from Stabat Mater
William Lloyd Webber: Moon Silver
Ferrante: Misurati Palpiti
Albeniz: 3 Movements from Suite Espanole op. 47
Asturias / Cuba / Sevilla
INTERVAL
Haydn: Duet in D
Moderato / Minuet and Trio / Presto
Bartok: 7 Pieces from 44 Duos for 2 Violins op. 98
New Year's Greeting / Lullaby / Cushion Dance / Sorrow /
Fairy Tale / Wedding Song / Ruthenian Kolomejka Dance
Purcell: Lost is My Quiet Forever
Rubinstein: The Angel Op 48 no1
Nevin: O That We Two Were Maying
Minsky: 3 American Duets
Cello Blues: Theme and Variations /
The Good High, Alaska Boogie / Way Out West
Piatti: Serenade for 2 Cellos and Piano
A very entertaining concert. The Ludford Duo began with Wendy Nugent accompanying them on piano for the beautiful Handel Sonata. The next 3 pieces had all been arranged for 2 cellos and piano by Julian Lloyd-Webber. The digital piano allowed Wendy to add variety by using a harpsichord sound for the Saint-Saens, an organ sound for the Pergolesi and a piano sound for the Lloyd-Webber. After that it was the 2 cellos on their own for the pulsing Ferrante and the very Spanish music of Albeniz.
After the interval, Ian and Janet played the Haydn and the Bartok pieces (with the movement titles explained by Ian), before being joined again by Wendy for 3 more of Julian Lloyd Webber's arrangements, and for the very lively Minsky.
They finished to rapturous applause, before giving us an encore of "Casals: Song of the Birds".
| | |
| --- | --- |
| | |
| Wendy Nugent | Janet & Ian Ludford |
For more information about the Ludford Duo visit their own web-site (in a new window), by clicking HERE