The Sterling Trio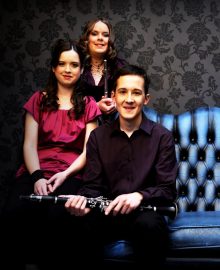 The Sterling Trio are Sarah Atter (Flute), Thomas Verity (Clarinet) and Lauren Hibberd (Piano).
They pride themselves on exciting, innovative and communicative performances. Performing with "adventurous spirit and fearless technique" [British Music Society] the Trio are passionate about engaging with audiences and sharing their enjoyment! As ambassadors for their unique combination of instruments – complemented by bass clarinet, piccolo, alto and bass flutes – the Trio have performed extensively, notably at St. Martin-in-the-Fields, Queen Elizabeth Hall, St. James's Piccadilly and Bridgewater Hall, and have had competition success with UK Young Artists, Tunnell Trust and Park Lane Group Young Artists Scheme.
Here is a PDF of the Poster for this Concert. (click to VIEW or right click to SAVE). Please feel free to print and display the brochure to help publicise this concert.
Programme (announced 17th April)
Fürstenau: La Concorde Introduction et Rondeau Brilliant
sur des Thèmes de l'Opéra "La Vestale"
Bach: Trio Sonata in G major, BWV 1038 (4 movements)
Granados: Trio, Op. 50 (3 movements)
INTERVAL
Saint-Saëns: Tarantella, Opus 6
Bax: Elegiac Trio
Blake: Fantasy Trio, Opus 662a (1956 revised 2014) (3 movements)
Rutter: Three American Miniatures for Flute & Clarinet (3 movements)
Arnold: Grand Fantasia
Brief Report "on the night"
An excellent concert, enjoyed by all 50 people present, and a worthy end to this season.
For the "Granados Trio" the Clarinet was replaced by a much bigger Bass Clarinet (which fascinated the audience with its mass of metalwork, see right-hand picture) and an extension piece had to be added to the Flute.
All pictures taken by Roger Evans
For more information about the Sterling Trio visit their own web-site (in a new window), by clicking HERE