Intriplicate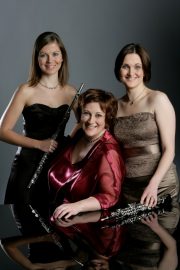 Intriplicate consists of Claire Fillhart (Flute), Claire Dunham (Piano) and Sally Richardson (Oboe).
Formed in 2001 they have performed across the country and released 3 CDs. They gave the first complete European performance of Sir Malcolm Arnold's "Suite Bourgeoise", as well as commissioning a new work "Cheshire Phantasies" from David Lloyd-Moston.
This is their fourth visit to entertain us, previous times were in 2003, 2007 and 2011. They were due to appear in January 2015, but had to pull out at the last minute because their pianist was ill, so we are very pleased to welcome them back to open our 26th season.
LATE NEWS – Friday 18th September
The flautist has had to pull out today because of illness. The pianist and oboist will still come along and perform, but obviously much of the proposed programme (as listed in the Posted below) has had to be changed.
Here is a PDF of the Poster for this Concert. (click to VIEW or right click to SAVE). Please feel free to print and display the brochure to help publicise this concert.
Revised Programme (announced 19th September)
Fantasy Pieces, op 2 – Carl Nielsen
1. Romance / 2. Humoresque
Rondo in D, k.485 – Mozart
Impromptu in G flat major, op. 90 no. 3 – Schubert
Liebeslied, op. 7 no. 1 – Suk
Sonata for oboe and piano, op. 166 – Saint-Saens
1. Andantino / 2. Ad lib – Allegretto / 3.Molto Allegro
~ INTERVAL ~
Sonata for oboe and piano, movements 1 & 2 – Poulenc
1.Elegie / 2. Scherzo
Novelette no. 1 in C – Poulenc
Nocturne in C sharp minor, op. posth. – Chopin
Gabriel's Oboe – Ennio Morricone
The Island Spell – John Ireland
Colour Suite, movements 1 & 4 – Madeleine Dring
1. Pink Minor / 2. Blue Air
Italian Dance – Madeleine Dring
Brief Report "on the night"
Unfortunately Claire Fillhart (flute) had to withdraw the day before the concert as her young children were rushed into hospital with suspected pneumonia. Luckily Sally Richardson (oboe) and Claire Dunham (piano) were able to put together a concert for us in the following 24 hours. The audience of around 50 people were delighted by the result.

The concert began with Claire reading out a short specially composed fairy tale in which lightning struck "intriplicate" 3 times on their attempts to visit the faraway land of "Middlewich"! The first time their car broke down dramatically, the second time the pianist was too ill to perform, and the third time the flautist was in hospital with her young children. Despite this "intriplictae" had managed to perform in "Middlewich" successfully now on 3 occasions, but on this fourth visit they were more like "induplicate"!
The music then began with a piece by Nielsen for oboe and piano. Claire then performed 3 short pieces on the piano (Mozart, Schubert, Suk), before being joined once again by Sally for a Saint-Saens sonata which brought the first half to an exciting close. The second half began with a lively Poulenc sonata, then it was 2 more piano pieces (Poulenc and the beautiful Chopin "Nocturne in C sharp Minor"). Next came an enchanting duet of Gabriel's Oboe by Ennio Morricone from the film "The Missionary". Two more, very different, piano pieces followed. First there was John Ireland's very dramatic "The Island Spell", followed by two contrasting movements from Madeleine Dring's "Colour Suite", with the last movement having a definite jazz feel. Finally the duo performed Madeleine Dring's lively "Italian Dance" which brought the concert to a close. After much applause, the audience slowly drifted out promising to return for our next concert (Harp2Harp on 14th November).
All pictures taken by Roger Evans
For more information about Intriplicate visit their own web-site (in a new window) by clicking HERE