Dolby & Hughes

(Piano Duo)

Back by popular demand after their exciting 4-handed concert in our 2011-12 Season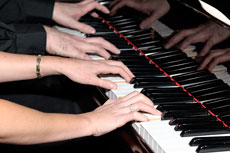 Here is a PDF of the Poster for this Concert. (click to VIEW or right click to SAVE). Please feel free to print and display the brochure to help publicise this concert.
Programme (announced 6th April)
Poldini: Dancing Doll
Tchaikovsky: Nutcracker Suite
Leroy Anderson: Blue Tango
Arthur Benjamin: Jamaican Rumba
Walton: Tango
Weber: Invitation to the Dance
INTERVAL
Rossini: La Danza.
French Dances
Delibes: Pas des Fleurs
Durand: Waltz (Wendy solo)
Faure: Pavane
Saint-Saens: Danse Macabre
Spanish Dances
De Falla: La Vida Breve, First Spanish Dance
Mompou: Cancion e Danza (Tony solo)
Albeniz: Sevilla (Sevillanas)
Lecuona: Malagueña
For more information about Dolby & Hughes visit their own web-site (in a new window), by clicking HERE
Post-Concert Report
The 43 people present were treated to a very entertaining concert, with a good selection of familiar and "not so familiar" pieces being played. The artists really enjoyed themselves and it showed in their playing. A wonderful end to this season.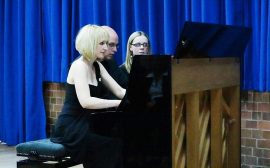 A full piano stool! (Only 2 are playing, the 3rd is the page turner)
(Photo: Roger Evans)
PRESS REPORT
As they did two years ago the piano duo of Wendy Dolby and Tony Hughes (four hands, one piano) brought the twenty-fourth season of concerts promoted by the Middlewich and District Concerts Society to an eminently satisfying conclusion.
This time the theme was music associated with dance. The main item was a performance of the suite from "The Nutcracker" by Tchaikovsky: brilliantly written and played with panache. We also had Poldini's "Dancing Doll", some tangos, "Jamaican Rumba" (Arthur Benjamin) and "Invitation to the Dance" by Weber, for which Tony gave us guidance about when it actually finished! And that was just the first half.
After the interval there were groups of French and Spanish dances, including Fauré's "Pavane", "Danse Macabre" by Saint-Saens (don't mention Jonathan Creek!), "Sevilla" (Albeniz) and "Malaguena" by Lecuona. As an encore they played some variations on "Waltzing Matilda".
Tony proved to be a genial guide through this diverse and entertaining programme and the audience left with spirits very much uplifted and looking forward to future concerts. It would seem appropriate at this stage to thank those who have provided us with financial support this season and to the audiences simply for being there. No audience, no concerts – "simples"!